Carnival
All rides range from 2 to 6 tickets per person, and tickets can be purchased at Carnival Ticket Booths on Jackson Avenue.
$1.25 = 1 ticket
$5.00 = 4 tickets
$10.00 = 8 tickets
$20.00 = 16 tickets
$30.00 = 27 tickets*
Take advantage of Carnival Deal Days all weekend with unlimited rides for $30 per person, per day.
Special Needs Day is Sunday, September 4th, from 10:00 AM - 12:00 PM. Patrons with special needs will get exclusive, priority, no-wait seating with special wristband. All participants must have a chaperone and wristbands are for special needs guests only. Park opens to the public at 10 a.m. and wristbands remain valid until 12 p.m. Please stop by the carnival ticket booth to pick up wristband starting at 9:30 AM.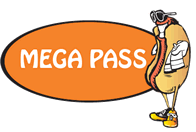 A Carnival Mega Pass grants access to unlimited carnival rides throughout the entire weekend. These passes are available for purchase online and in select Naperville Jewel-Osco locations (1227 Naper Blvd., 1759 W. Ogden Ave., 127 E. Ogden Ave. and 2855 W. 95th St.) and the voucher will be redeemable at the Jaycee Info Booth located in the midst of the carnival on the corner of Eagle and Jackson. Pre-event pricing is set to $49.99. Remaining passes will be sold at the carnival for $60.
Days
Carnival Hours of Operation
Carnival Tickets Will Be Sold
Friday, September 2
5 p.m. - 11 p.m.
5 p.m. - 10:30 p.m.
Saturday, September 3
10 a.m. - 11 p.m.
10 a.m. - 10:30 p.m.
Sunday, September 4
10 a.m. - 11 p.m.
10 a.m. - 10:30 p.m.
(Rides for special needs patrons: 9 a.m. - Noon)
Monday, September 5
10 a.m. - 8 p.m.
10 a.m. - 5:15 p.m.
*NOTE: Automated ticket machines will charge $1.25 per ticket regardless of bulk ticket rates. To take advantage of promotional pricing, please visit a manned ticket window.