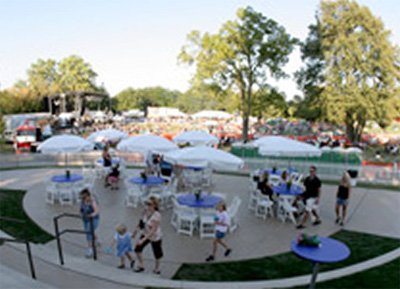 The Carillon Dining Experience will be available Friday, Saturday & Sunday only and include a seated dining experience, unliminted upgraded beverages (beer, wine, soft drinks) and EXCLUSIVE front of stage access.
Carillon Dining Menus are night specific and may include options for those with dietary restrictions; due to onsite preparations, we cannot guarantee any item is allergy free.
Dinner served from 5:30-7:30PM
Friday, August 30: Belgio's Catering
Parmesean and Herb Breaded Chicken Breast in Marinara Sauce, Baked and Topped with Mozzerella Cheese. Served on a Gourmet Split bun with Parmesean Cheese on the Side.
Cucumber Salad with Red Onions, Fresh Basil and Tomatoes, Seasoned and Tossed with Fresh Vinaigrette Dressing.
Caesar Salad with Homemade Garlic Croutons and Shaved Parmesean Cheese. Dressing on the side.
Vegetarian Wraps with Red, Yellow and Green Peppers, Cucumbers, Lettuce, Tomato and Red Onions (limited quantity available - for food restricted guests only)
Saturday, August 31: Front Street Cantina
Chicken Fajitas with Flour and Corn Tortillas
Black Beans and Rice
Chips and Salsa
Sunday, September 1: Ted's Montana Grill
Beef Burger on Brioche Bun, Toppings are served on the side
Housemade Chips
Kale Salad
Veggie Burger, Chicken Breast, and Gluten Free Bun Option (limited quantity available - for food restricted guests only)

Tickets for the the Carillon Dining Experience are $125 per night and only a limited quantity are available. Don't miss your opportunity for this unique experince at the Last Fling!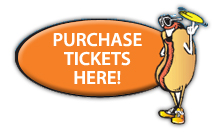 General Information
Gates to the Carillon Dining Experience open at 5PM on Friday, Saturday and Sunday. This ticket will also grant the holder to access to all other public areas of the Last Fling for the day/date printed on the face but not afford you any Carillon benefits therein. A Carillon Ticket holder MUST have their that day Carillon Ticket in hand to receive free entry into the following: Block Party Stage Area, Family Fun Land and Rotary Hill Main Stage General Admission. Prior to 5pm on Saturday/Sunday, please pick up your Carillon Packet at the entrance to Sponsors' Tent however, this does not guarantee entrance into the Sponsors' Tent Area.
Please contact Ticketing@lastfling.org with any additional questions. All Carillon patrons must have a ticket regardless of age.

EVERYTHING is subject to search upon entry. For your safety, NO WEAPONS, GRILLS, COOLERS, BOTTLES, CANS OR ALCOHOL IN ANY CONTAINER may be brought into the Last Fling. No audio or video recording devices are allowed. Flash photography also may not be allowed due to contractual agreements with the entertainment. Crowd surfing, moshing and fighting are not allowed and patrons involved in such activities will be ejected immediately.
ATMs
ATMs are provided on Jackson Avenue.